Super Sites!
A few days ago I realized that I had a few websites that I use almost weekly that I haven't shared with everyone yet.

Here are a couple of sites that I can't seem to live without.


Johnnie's Math Page


On Johnnie's Math Page there are many great, free math games.


This site is perfect for computer lab time or to send home to parents for extra math review.


Math Cats
This is a neat site to help teach kids that there is not the word AND in big numbers.


For example: 412. Many kids say four hundred and twelve - when it's really four hundred twelve.


Arcy Tech

I love this really cool, interactive base-10 blocks website.


I used this as a large group teaching tool while teaching place value. We all piled around the computer, talked and played with the site.

Then I sent it home with the kids so they could try it with their parents.


ESL Flashcards


This site is a must have for ELL or ESE students. I use these cards all the time to introduce new vocabulary and help build comprehension of new words.


Most of the time I print the cards, have the kids cut them, then we write what the picture shows on the back together. This way the kids gain ownership of the cards, but they also get to practice writing the word.




Tools for Educators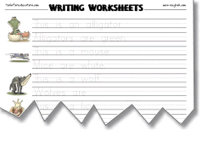 This site is neat because you can customize your paper to meet your needs with clip art.


For example when we were learning about proper hand washing techniques – I printed out some "health" themed paper for the kids to write the steps down.


The pictures are cute and not a distraction on the page like some printables can be.


Printable Paper


On this site there are some easy to use, printable writing papers.


I use this site all the time for my Writer's Workshop papers. It isn't fancy – but they are affective!





New Management


While surfing around I found this site... and while I do not currently maintain a clip chart - I found this to be a very interesting way of looking at using it.


If you look at the chart - it goes up and down... so records acceptable and unacceptable behaviors. I like how to praises children who are on task instead of just punishing those who are not.


The address below is to a free downloadable book all about how this system works.



---
My New Year's Gift to You!
I have created a "Coupon Code" for any of my downloadable books.
If you enter the discount code 24181T1J at check-out you will receive a 15% discount on all the contents of your cart.
Several people have emailed asking if I could extend the coupon date so they can get back into their classroom and order.
So...this sale is now through 1/08/10. Happy New Year!
---
Check out my podcasts on my podcast blog. They are fun and helpful!

I hope that you have enjoyed this newsletter. Please feel free to email it to friends and family who are teachers or homeschool moms!

If you have any questions, please feel free to contact me.

See you next month!
---